If you follow us on Instagram, you know we're big fans of outdoor gear from Decathlon. They offer affordable and durable gear for all ages and activities since 1976. Our son wears lots of clothes, and Michal loves his mountain bike from Decathlon.
After many successful trips to the Rockies with our stand-up paddleboard (you can see it in action here), I was stoked that Decathlon asked us to review their Itiwit 3-person Inflatable Kayak KTI 100.
We made several test runs to see if we liked the kayak and learned how to set it up efficiently. After our recent kayaking trip to Johnson Lake in Banff National Park, I can confidently say that the Itiwit 3-person Inflatable Kayak KTI 100 is among the best outdoor gear for spring, summer and autumn.
5 reasons why we like the Itiwit 3-person Inflatable Kayak
1. Backpack for carrying
The Itiwit kayak weighs 17 kg and comes with a backpack with straps for short distances. So you can either inflate it at the parking lot and then 2 people carry it near the water, or just 1 person carry it in the backpack and inflate it closer to the water.
The backpack's lower part is waterproof, so when you carry the fold-up kayak back to the car, it's not soaking through and onto your back.
2. It's a 1-3 person kayak
Since the weight limit is 230 kg, there's plenty of room for three adults. We, however, chose this Itiwit 3-person kayak for two adults and our 3-year-old son. He was comfortably sitting in the middle, observing the fish swimming around.
With the removable seats, you can quickly reconfigure it into a 2 or 1-person kayak. But since we already use our stand-up paddleboards to either paddle alone or with our son on board with one of us, we mainly use the kayak for all 3 of us.
3. Stability
Unlike other cheaper kayaks where the floor is just one tarp, making getting in and out of the kayak tricky because it's wobbly, the Itiwit kayak comes with a firm, inflatable floor that hardly gives way.
Since the kayak is inflatable, it floats on water rather than in it, as rigid kayaks do. This allows entering the kayak even in shallow water, which is a huge plus when using it with small kids or in spring & autumn when the water is too cold.
Despite the high buoyancy, the bottom of the kayak is very flat, so the whole surface touches the water and provides excellent tipping stability. This was heavily tested while our son got up from his seat several times to look closely into the water while we paddled.
We let him explore until, one time, he almost tipped over and learned what we meant by not leaning over too much. Michal quickly grabbed him as he barely touched the water with his head. Since then, he was naturally more careful.
As always with kids or adults, a practical lesson proved much more valuable than a teaching lesson from someone else.
4. Sitting & storage space
I was never really a kayak person because of the uncomfortable kayak seats. But this one honestly surpassed my expectations.
All three seats are inflatable, have a higher backrest and a thick seat cushion. When inflating them, you can decide how soft or hard you'd like to have your seats. The thick seat cushion also means you're not sitting in any water that gets into the kayak while you paddle.
When seated, there was enough space for a small dry bag in the front or more storage space at the back behind Michal.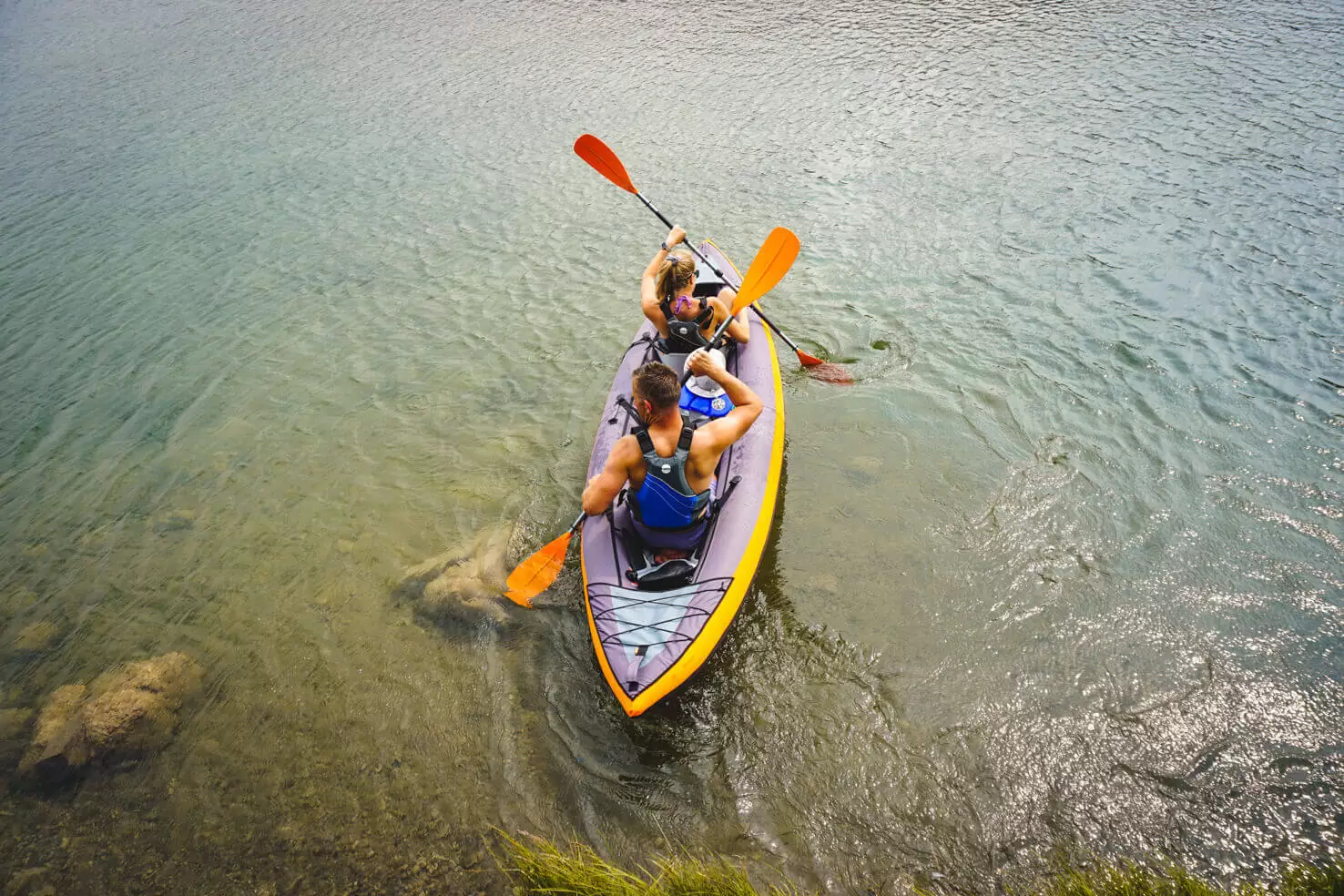 5. Affordability
As our experience with Decathlon gear has proved many times, they offer great quality and affordable prices. Since we're beginner kayakers only looking for short family paddling trips, the Itiwit 3-person Inflatable Kayak KTI 100 is perfect.
I compared the kayak with four other beginner 3-seater brands, and this Itiwit kayak has no affordable competition.
I look forward to many more kayak trips with our son in the beautiful Canadian Rockies.
INSPIRATION
Best Places for Kayak & Stand-up Paddle Boarding in Banff & Around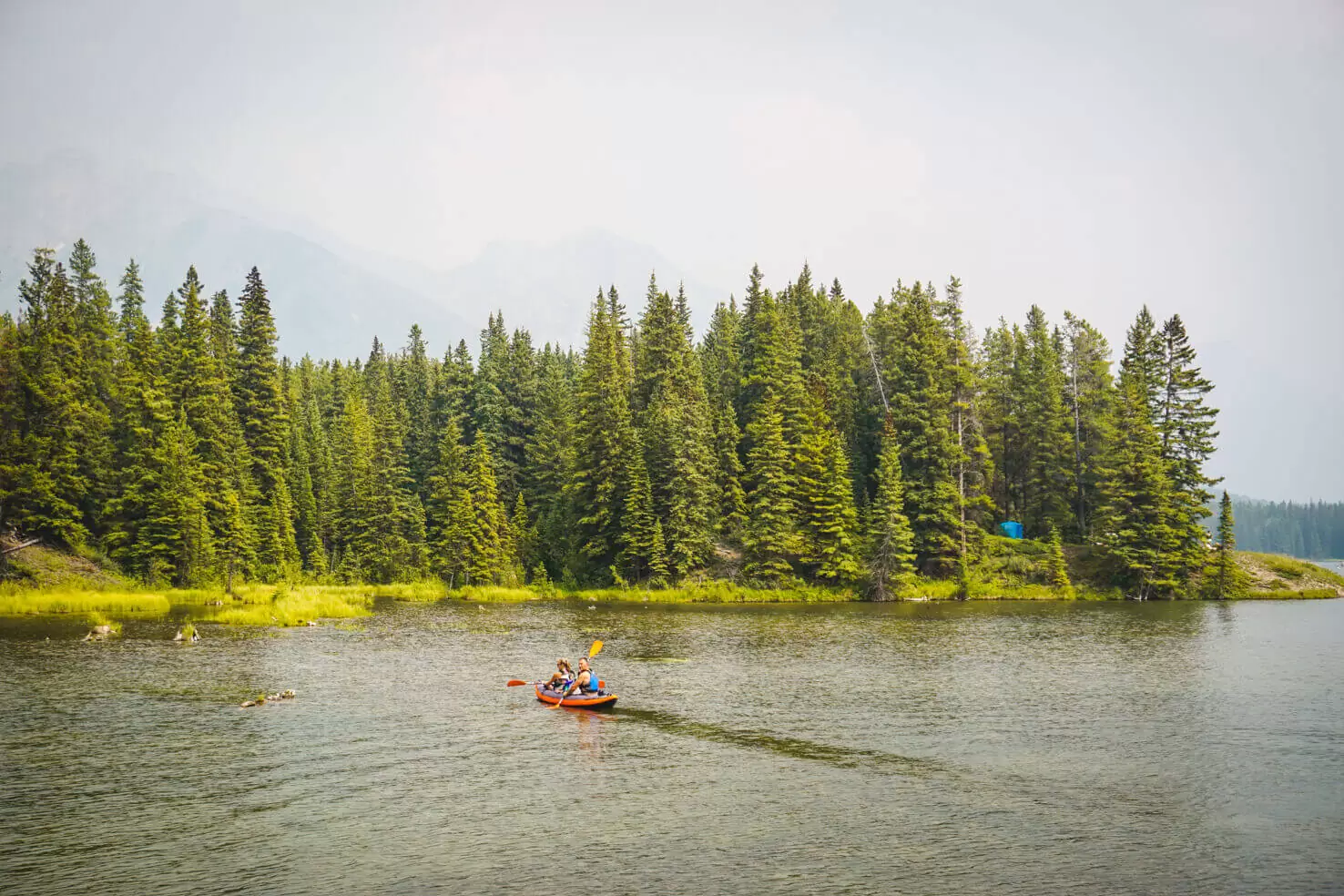 In conclusion, I recommend the Itiwit 3-person Inflatable Kayak KTI 100 for families, thanks to their excellent stability, comfortable seats, and affordability.
Gear I recommend buying with the kayak